Happy New Year From Allstar Cleaning
Another year has gone by and we have continued to build and grow. We are working with a fantastic team and we have a new, local lady, Kirsten, who is helping Yasmin with Data collection, advertising and development. We have a new full time worker, who had very little English at the start of the year, but has exceled in all areas including his communication.
Our relationships with Savills and Marilla Garland Property Management have continued to flourish and we completed over 400 End of Tenancy Cleans in 2016! An incredible amount that was generated from positive word of mouth, key relationships with Letting Agencies and our free, no hassle return service.
We have taken on some new contracts including King Hedges Primary School, Dale & Kamson, new regular office cleans and communal blocks where we have to manage all of the cleaning requirements.
Wax mark gone! another trick of the trade.#Carpetcleaning #Cambridge #Cleaningcambridge https://t.co/eToUYoeeeG pic.twitter.com/zx0wJ9To6N

— AllstarCleaning (@A11starCleaning) July 28, 2016
For Christmas, we bought ourselves a new carpet cleaner. This is our second machine and it means we can concentrate on local carpet cleans in our area, such as: as Linton, Abington, Balsham and Saffron Walden. Look out for our new local advertising in a magazine near you! Dean, our professional Carpet Cleaner, has 7 year experience and loves cleaning carpets and having a cupper with his customer's.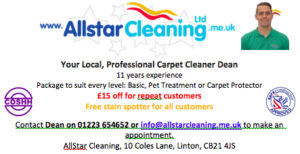 Our most important post on social media this year was probably about giving blood, so if you haven't signed up yet to give a pint, you need to!
Its that time again #GiveBloodGiveLife #Cambridge https://t.co/eToUYoeeeG pic.twitter.com/GMMxzGr5WS

— AllstarCleaning (@A11starCleaning) May 10, 2016
    We are simply going to reiterate what we said last year; push our business forward and always improve upon what we have already achieved.
Thank you to all our customers, clients and staff.