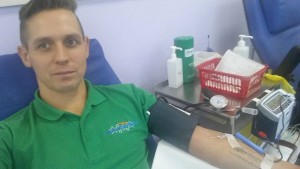 (Dean Hancock) allstar cleaning #bleedforengland
Just 4% of people regularly donate blood, which means the NHS can no longer guarantee we will have all the blood we need. One in four of us will need to receive blood at some point. Whether you are a cancer patient or the victim of an accident or a fire, or simply need surgery, it is safe to say you or someone close to you will depend on a transfusion of the red stuff one day.  So it is alarming that less than 4% of us regularly donate blood. In the past decade alone there has been a 40% fall in new donors. It means the NHS can no longer guarantee we will have all the blood we need, and that will leave future generations at risk. Most of us know giving blood saves lives, but not nearly enough of us do it.
please visit give blood www.blood.co.uk
A new-look blood donor website has been launched to give online users a whole new experience at blood.co.uk.
The NHS Blood and Transplant website, blood.co.uk, has undergone a revamp in a move to deliver a secure, easy-to-use online service that enables people to make the right decisions about donation and to manage their appointments quickly and effectively.
Blood donors will be able to create their own personal account on blood.co.uk which will link to their existing blood donation records. This will give people across England and North Wales the flexibility and convenience to book, amend or cancel their own appointments online.
Jon Latham, Assistant Director for Marketing at NHS Blood and Transplant, said:
"As internet shopping and banking become common practice, so do people's expectations for being able to manage their everyday appointments online. These new changes are a step forward to ensure we meet donor expectations.
"As a result of donors' accounts being directly connected to blood.co.uk, it offers a much more efficient registration process for both new and existing donors. All donors will still be able to book an appointment using the donor helpline if they choose to. The new system will simply act to give donors an easily accessible alternative."
As well as managing their own appointments, donors with an online account will also be able to view their donation timeline, their blood group, update personal details and check medical and travel guidelines. This was previously only available for donors who had an online account via the Government Gateway.
http://www.bbc.co.uk/news/uk-34006542 great link to polish people giving blood to the NHS #polishblood